FibriCheck is the first medically certified smartphone application with CE, FDA and TGA approval that enables users to detect heart rhythm disorders in a timely fashion and to subsequently monitor them.
Patients simply install the FibriCheck app on their smartphone. All data are available to the GP or cardiologist in a conveniently structured dashboard.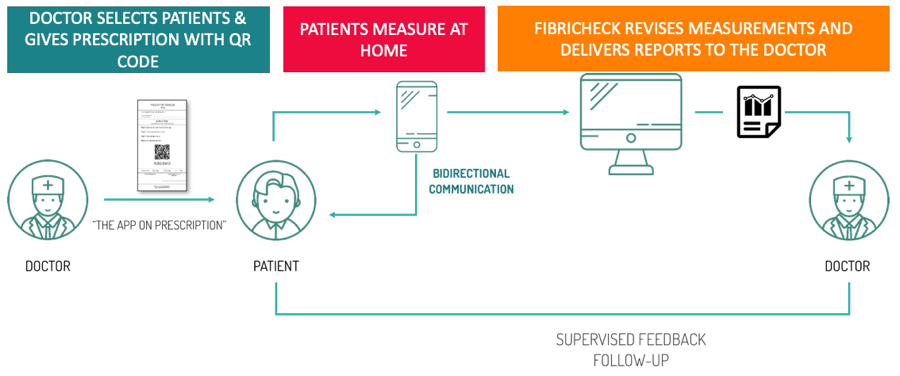 To measure their heart rhythm using the FibriCheck app, patients have to place the tip of their finger on the lens of the smartphone camera for 60 seconds (no additional hardware required). The app then measures the heart rhythm using photoplethysmography technology (PPG technology), whereby the camera measures minute changes in the amount of blood flowing through the capillaries based on the level of light reflected.
The clinically validated FibriCheck algorithm then analyses the measurement with a 97% accuracy rate. In addition, for FibriCheck Pro or Plus accounts for doctors, all potentially abnormal measurements are reviewed by one of our medical experts.
As soon as the measurement has been analysed (including by our medical experts if this is deemed necessary), you are automatically sent your patients' measurements via your FibriCheck dashboard. Not only does this help you to arrive at a diagnosis considerably faster, it is also an ideal tool for monitoring patients who have already been diagnosed as having a heart rhythm disorder.
Find out more about our clinical studies or click here for further details on how you can use FibriCheck in your practice or hospital.
Fully convinced? Then click here to find out how to start using FibriCheck.