With our FibriCheck dashboard we aim to give you accurate insights on your patient's heart rhythm, to ensure you can monitor them optimally. That's why we've made a few changes to the dashboard. Here's an overview of the changes:
Patient overview
You can access the patient overview page by selecting the tab "My patients" after logging into the FibriCheck dashboard.

We've added a new column: Last measurement. This shows the outcome of the last measurement the patient has performed.
The Known with column shows the most serious label our app has detected for your patient.
You can now hover over the Known with and Last measurement columns to see the date and time of the specific measurement.
Patient profile
To access the patient profile page, click on a specific patient in the patient overview.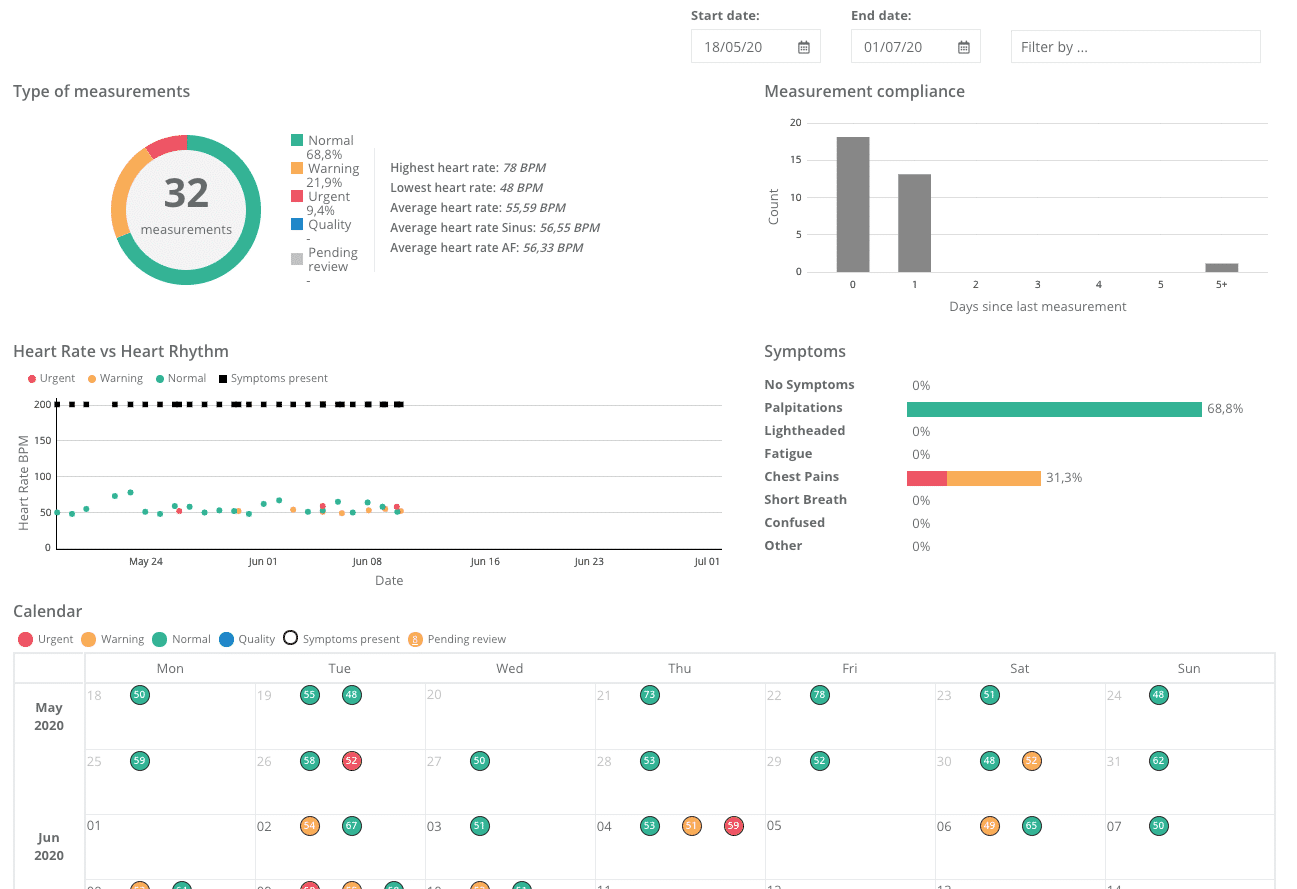 Here we've made the biggest change. We've upgraded the calendar view to a full-fledged dashboard. This encompases the following:
On the top of the page you can choose a custom date range. This range is applied to all the graphs shown on the page.
In the Type of measurement graph you can see a breakdown of the measurement outcomes. We've also added a number of highly requested heart rate statistics.
The Measurement compliance graph shows the number of measurements completed, relative to the number of days since the last measurement.
In the Heart Rate vs Heart Rhythm graph we've plotted the measurements in relation to the date and the heart rate. Symptomatic measurements are indicated with a black dot.
The Symptoms graph is an overview of symptoms in relation to the type of measurements. You can click on the bars in the graphs to filter on a specific symptom and type of measurement.
At the bottom you can still access the Calendar. Here, symptomatic measurements now have a black border. Measurements that are still under review are underlined.
Measurement detail
On the patient profile page you can scroll down to the calendar. Click on one of the dots to get to the Measurement detail page.

Status indicates if a measurement has been reviewed by our panel of medical experts.
Underneath Status we've added Review outcome. This signifies the result of a review.
When you add a comment to a measurement, the last comment is now shown on the top of the comments section.
Still have some questions about the upgrade or feedback for us? Contact us at support@fibricheck.com.