FibriCheck records a photoplethysmogram signal (PPG signal) via the smartphone camera (and flash). By placing one's fingertip on the camera lens for 60 seconds, the app will measure minute changes in the volume of blood flowing through the expanding and contracting capillaries based on the level of light reflected.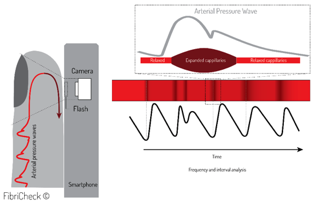 PPG technology is equivalent to an ECG, as corroborated by a validation study that looked at the interval between heartbeats in ECGs and PPGs. The conclusion was that there is a 99.3% correlation.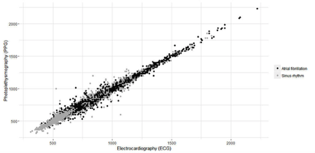 (Source: Vandenberk T et al., PM Clinical Validation of Heart Rate Apps: Mixed-Methods Evaluation Study JMIR Mhealth Uhealth 2017;5(8):e129)
Fully convinced? Then click here to find out how to start using FibriCheck or visit our clinical studies page for further details.