To prescribe FibriCheck, simply follow the steps shown below:
Step 1: Click 'Create prescription' in your dashboard.
Step 2: Select the reason for the prescription and click 'Next'.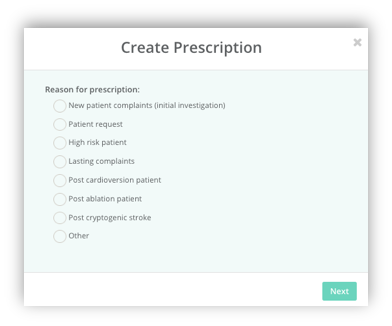 Step 3: Select the name of the prescribing doctor (applies only in cases of group practices or hospitals) and click 'Next'.

Step 4: Enter the type of prescription and the duration.
When you start using FibriCheck, we are happy to offer 2 free prescriptions that will enable you to test FibriCheck as though you are a patient. These free prescriptions are available under 'Free'.
Have you signed a licence with FibriCheck as a group practice or as a hospital, and would you like to use individual prescriptions? This will enable you to create a prescription for your patient under 'Free'. This is included in your group credit.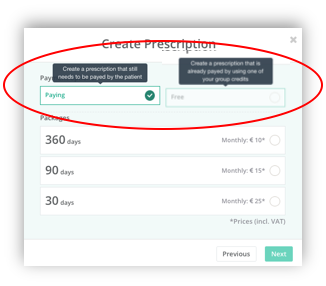 Step 5: Once you have created the prescription, it is available for download as a pdf or it can be sent to the patient by email. As soon as your patient activates the prescription, you will find that patient in your dashboard under 'My patients'.