To prescribe FibriCheck, follow these steps:
Step 1: On your online dashboard, click on "Create prescription".
Step 2: Select the reason for the prescription and click "Next".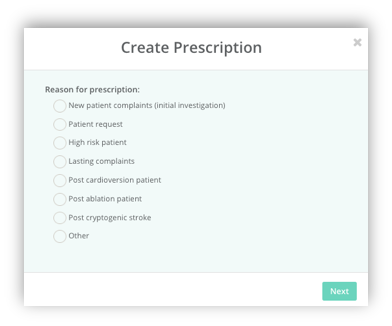 Step 3: Select the prescribing physician (in case of group practice or hospital) and click "Next".

Step 4: Indicate the type of prescription and choose the duration for the prescription.
Note: When you start prescribing FibriCheck, you will be given 2 free prescriptions to test FibriCheck yourself as if you were a patient. To use the free prescriptions, choose "Free" instead of "Paying".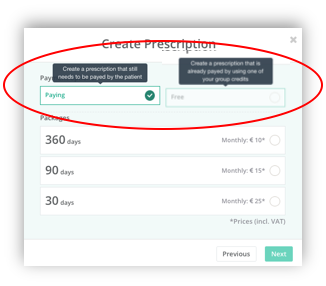 Step 5: You can download the prescription as a PDF and print or you send it directly to the patient by mail.
Note: Once your patient activated the prescription, the patient will be shown in your dashboard under "My Patients".