If one of your patients has an abnormal measurement, any such measurements are checked by one of our medical experts who is specialised in the interpretation of PPG recordings.
Each day you will be sent an overview by email, sent to the primary email address for your account.
This email details:
The name of each patient in whom an abnormal heart rhythm has been established for the first time, with a link to the specific measurement.

An overview of the patients whose prescription has expired, with a link to the final report.
In the overview, each patient is assigned a priority label:
Green: no abnormal rhythm detected by the measurements

Orange: abnormal rhythm, but no atrial fibrillation/auricular fibrillation

Red: presumed atrial fibrillation/auricular fibrillation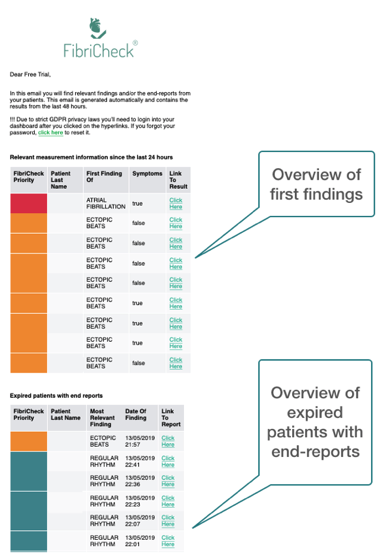 Please note: As a doctor, you yourself are obviously responsible for informing your patients (if necessary).
To find out more about how to consult your patients' results, please be sure to read this article. Please click here for further details regarding the content of the reports.